Articles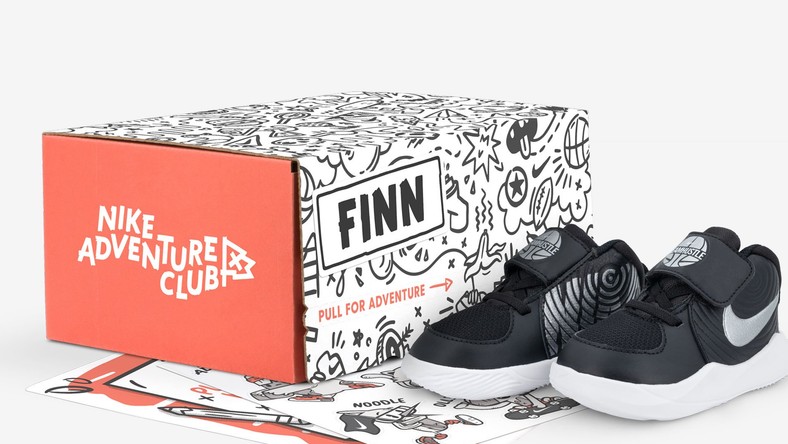 Nike is launching a subscription program for kids' shoes this week, the company announced Monday.

Nike
The Nike Adventure Club will allow parents to paya monthly fee in exchange for new shoes multiple times a year.
The kids' sneaker market is estimated to be worth an annual $10 billion, Reuters reported .
Kids' feet...
Nike is launching a subscription program for kids' shoes this week, the company announced Monday.

Nike
The Nike Adventure Club will allow parents to paya monthly fee in exchange for new shoes multiple times a year.
The kids' sneaker market is estimated to be worth an annual $10 billion, Reuters reported .
Kids' feet are constantly growing. Now, Nike has a solution.
Just in time for the back-to-school rush, the athletic-wear and shoe retailer announced Monday that it will launch a sneaker subscription program for children this week. Targeting parents who need to regularly buy new sneakers for their young children, the Nike Adventure Club will offer three tiers of subscription options $20, $30, or $50 a month that will get customers new shoes on a monthly, bimonthly, or quarterly basis.
"We see Nike Adventure Club sits as having a unique place within Nike, and not just for it being the first sneaker club for kids," said Dave Cobban, vice president of Nike Adventure Club, said in a Nike press release . "It provides a wide range of options for kids, while at the same time, it removes a friction point for parents who are shopping on their behalf.
The Nike Adventure Club will offer more than 100 styles of sneakers in sizes 4C to 7Y, which covers children roughly ages two to 10. Once a child outgrows a pair of Nike or Converse sneakers, parents can send it back and choose a replacement pair in a larger size. The subscription box will also have a sizing chart to help parents choose the best size for their child, Reuters reported .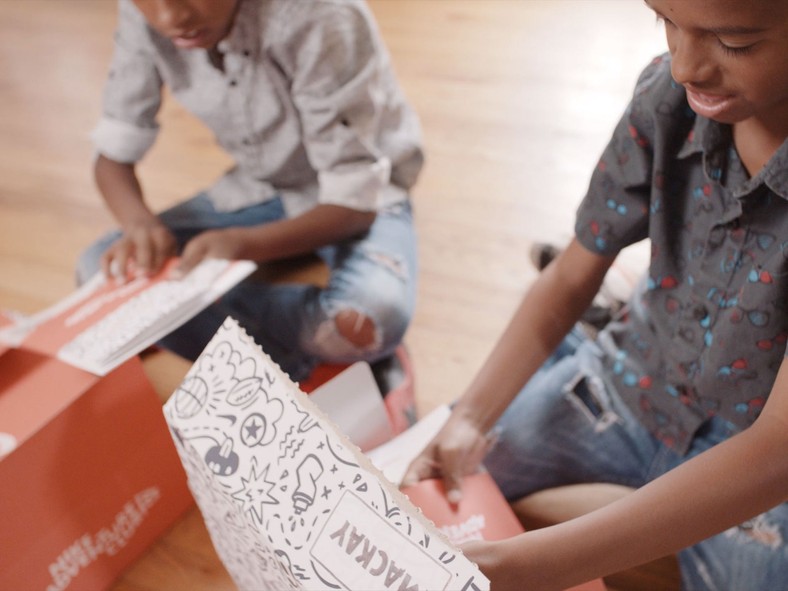 NikeNews_NikeAdventureClub_KidsOpening_1_original

Nike

The kids' shoe market is estimated to be worth $10 billion annually, Reuters reported . Nike joins other retailers like Urban Outfitters, American Eagle, and Walmart in introducing new subscription models to their brick-and-mortar stores.

"In providing footwear, we're always trying to answer, 'What do kids want?'" Nike Adventure Club's director of product experience and retention, Dominique Shortell, said in a press release . "But an equally important question is, 'What kind of experience are we providing for their parents?' We want to make shopping for footwear as convenient as possible for them."

The Nike Adventure Club will offer over 100 different sneaker designs. Nike also partnered with KaBoom, a lifestyle nonprofit for kids, to distribute adventure guides with each subscription that feature different active games and activities for kids.

Read more http://swordpress.com.ng/2019/11/11/nike-is-launching-a-shoe-subscription-program-for-kids-in-a-move-to-capitalize-on-an-estimated-10-billion-market-www-kidd-i-ng/
Close Election in Kentucky Was Ripe for Twitter, and an Omen for 2020
Gov. Matt Bevin's allegations of irregularities in the Kentucky governor's race echo the Trump playbook.
Credit…
Timothy D. Easley/Associated Press
By Matthew Rosenberg and Nick Corasaniti
A few hours after polls closed in Kentucky last Tuesday, a Twitter user...
Close Election in Kentucky Was Ripe for Twitter, and an Omen for 2020
Gov. Matt Bevin's allegations of irregularities in the Kentucky governor's race echo the Trump playbook.
Credit…
Timothy D. Easley/Associated Press
By Matthew Rosenberg and Nick Corasaniti
A few hours after polls closed in Kentucky last Tuesday, a Twitter user writing under the handle @Overlordkraken1 posted a message to his 19 followers saying he had "just shredded a box of Republican mail-in ballots."
It was clear that the Kentucky governor's race was going to be excruciatingly close, and that the Republican incumbent, Matt Bevin, could be headed to defeat. But just in case anyone missed the significance of the destroyed-ballots claim, @Overlordkraken1 added a final touch to his tweet: "Bye-Bye Bevin," he wrote.
For those eager to cry fraud as a reliably red state leaned blue, the fact that @Overlordkraken1 did not appear to be in Kentucky — Louisville was misspelled in the location tag on his tweet, for one thing — was not going to get in the way of a useful narrative. Nor was Twitter's decision to suspend his account.
Within hours of @Overlordkraken1's tweet, as it became apparent that Mr. Bevin was trailing in the vote tally, hyperpartisan conservatives and trolls were pushing out a screenshot of the message, boosted by what appeared to be a network of bots, and providing early grist for allegations of electoral theft in Kentucky. High-profile right-wing figures were soon tweeting out their own conspiracy theories about the election being stolen — messages that were in turn pushed by even more trolls and bots — and the Bevin campaign began talking about "irregularities" in the vote without offering any specifics or evidence.
The talk has only intensified in the days since, though it has yet to be matched by any evidence of actual election rigging. But with Mr. Bevin's choosing not to concede, and Kentucky authorities' preparing to recanvass all of the votes at his insistence, Kentucky is shaping up to be a case study in the real-word impact of disinformation — and a preview of what election-security officials and experts fear could unfold a year from now if the 2020 presidential election comes down to the wire.
Since his election four years ago, Mr. Bevin has hitched himself to President Trump, and his allegations of irregularities echo the Trump playbook. Mr. Trump has sown doubts about a "rigged election" system since before his own election, including openly questioning the mail-in ballot process in Colorado. He then contended that fraud had lost him the popular vote (which Hillary Clinton won by 2.9 million votes). And he has amplified similar theories while in office, tweeting at least 40 times about unfounded voter fraud allegations, according to an analysis by The New York Times, including a claim after the midterm elections last year that "many ballots are missing or forged" in Florida.
Such divisive rhetoric after close elections has always risked shaking public faith in essential democratic institutions. But in a profoundly polarized country where narrow margins are hardly uncommon, sophisticated networks of social media users — human and bot — can quickly turn partisan rancor into grave threats, rapidly amplifying disinformation and creating an initial veneer of vast discord that can eventually become self-fulfilling.
"It shows how the same divisions that the Russians sought to expose in 2016 remain real vulnerabilities in our democracy," said Laura Rosenberger, director of the Alliance for Securing Democracy, a nonpartisan group in Washington focused on election security. "The ugly partisanship that is dominating our democratic discourse continues to create openings for those who want to weaken our institutions and use the online space to fuel conspiracies or advance their own agenda."
Mr. Bevin has not elaborated on the nature or source of the perceived irregularities, and his campaign did not respond to multiple requests for comment.
The campaign of Attorney General Andy Beshear, who is leading the governor by roughly 5,000 votes, said in a statement that "it's deeply concerning to see shady coordinated disinformation campaigns trying to undermine our democracy."
The Kentucky secretary of state's office said federal law enforcement officials were investigating both the tweet about shredding ballots and the subsequent rapid amplification. The United States attorney's office for the Eastern District of Kentucky did not respond to a request for comment.
Twitter, in response to questions from The Times, said the trolling and spread of disinformation about the Kentucky race appeared scattershot and haphazard, but largely appeared to originate in the United States. The company described @Overlordkraken1, whose profile said his name was Luis, as a user with a history of small-time trolling.
Graphika, a company that specializes in analyzing social media, agreed with the conclusion that much of the activity around the Kentucky vote was domestic and not likely to have been pushed by any foreign power. Graphika said the tweets about electoral fraud appeared to land in what it calls a "Trump core" — a large number of highly interconnected social media accounts, many run by real people, that are typically reactive and loud and can keep a conversation going for days at a time.
But much like the Russian-backed networks of bots and trolls that impersonated Black Lives Matter activists in 2016, or more recently seized on divisive issues like gun rights after a mass shooting, the accounts that quickly amplified doubts and disinformation about the Kentucky election seemed ready for the occasion.
The tweet about the shredded ballots was first noticed by the secretary of state's office, which alerted law enforcement officials and Twitter. The tweet was quickly taken down, but by then it had already been captured in a screenshot and would be widely shared.
Data compiled by VineSight, a start-up that detects disinformation on social media, showed that many of the accounts that tweeted the screenshot of @Overlordkraken1's ballot-shredding claim appeared to be bots. Their tweets, in turn, were spread by other bots.
Of the more than 3,800 accounts that VineSight detected tweeting the screenshot, at least 2,350 appeared to be bots, based on an analysis of the accounts' activities, including how quickly and how often they tweet.
One was an account that went by the handle @ConservaMomUSA and had both human and bot characteristics. @ConservaMomUSA's post about the ballot shredding was retweeted about 1,300 times, and nearly 60 percent of that traffic was from bots, VineSight found.
DrConservaMom



@ConservaMomUSA
Replying to @ConservaMomUSA
BREAKING- #MattBevin's election monitors & lawyers allege polls in very liberal #FayetteCounty Kentucky stayed open late… #VoterFraud?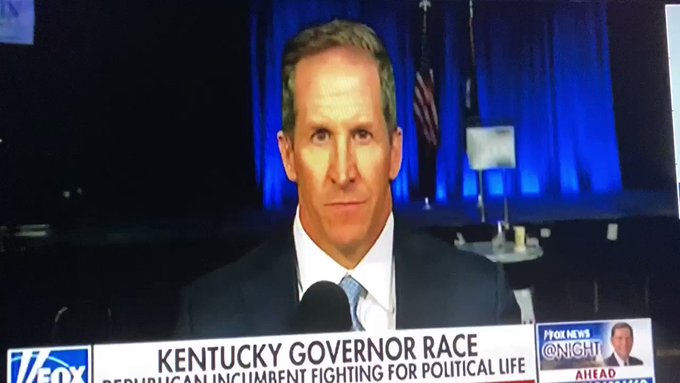 DrConservaMom

@ConservaMomUSA

Don't know what this is all about: Maybe @MattBevin should have his lawyers look into it…

6:00 AM – Nov 6, 2019

Twitter Ads info and privacy
1,411 people are talking about this

The volume of bot-like tweets of the vote-shredding screenshot prompted VineSight to alert the Democratic Governors Association in Washington. Despite growing fears about national disinformation campaigns, the news startled some officials there.

"I was a little surprised," said David Turner, the group's communications director. He noted that while some small-scale bot activity had been detected after the 2017 elections in Virginia, "we didn't see any of that in our close elections last year."

The disinformation quickly grew beyond the allegation of shredded ballots. The conspiratorial hashtag #StopTheSteal, which had been prevalent in the 2018 midterm elections, then silent for nearly a year, spiked late on election night, tweeted more than 1,200 times, largely by accounts with bot-like characteristics.
This MUST be investigated, as part of a full recanvass of the #Ky gubernatorial election. It's been so long since Dems were held accountable for anything, they have no qualms about flaunting their criminality. It must be stopped — NOW.#VoterFraud#StopTheSteal
295 people are talking about this

Tweets explicitly claiming that the election had been "rigged" were also picked up. A quick sample of nine tweets decrying a "rigged" election were retweeted roughly 1,800 times, with nearly 60 percent of the retweets coming from bot-like accounts, according to data compiled by VineSight.

Catturd

@catturd2

How in the hell can Kentucky vote for a Democrat Governor?

They'll be regretting that within a month
EatAbagDicks Democrats

@RPatton74

You tell me that this wasn't rigged!Kentucky will have their Republican governor
554 people are talking about this

Other bot-like accounts were resurfacing unfounded allegations of "voter intimidation" by George Soros, the billionaire Democratic donor and favorite boogeyman of the far right.

Talk of possible electoral fraud was not limited to the fringes of online discourse. Tom Fitton of Judicial Watch, a prominent right-wing activist group, tweeted that Kentucky had weak voter ID laws and "dirty election rolls," though he was careful not to make any direct allegation of wrongdoing.

Michael Coudrey, an entrepreneur and activist with more than 180,000 Twitter followers, posted a message on Wednesday that Kentucky had switched to machines that scanned votes and provided no paper backup, and "oddly enough the entire state turns blue."

In an email responding to questions from The Times, Mr. Coudrey said warnings from federal officials about possible foreign interference in elections made Kentucky's use of scannable voting machines a cause for concern. Still, he later deleted the tweet after it became apparent that Republicans had scored significant wins in the state.

But by then it had been retweeted hundreds of times.

"Now we see as a reality that Kentucky was prime fertile breeding ground to amplify tactics that have previously been used in the 2016 election, and try out new tactics that I do believe will most likely continue to be used in the 2020 election," said Alison Lundergan Grimes, the Kentucky secretary of state, a Democrat who ran unsuccessfully in 2014 against Senator Mitch McConnell, the majority leader. She said it foreshadowed "what is to come in elections not only here in the Commonwealth, but all across this nation."

By Thursday, the online campaign was melding with real-world action. A supporter of Mr. Bevin, Frank Simon, had set up a robocall network telling people to "please report suspected voter fraud" to the state Department of Elections.

There are no indications of any voter fraud in Kentucky, according to Ms. Grimes.

"Beyond the routine calls that we field, up to and on Election Day, there are no irregularities that would substantiate a 5,000-vote difference margin that now separates unofficially Governor-elect Beshear with Governor Bevin," she said.

While the Kentucky election, held in an off-year, remains a sideshow to most people outside the state, election security experts see in it a worrying sign of what Americans may be forced to contend with next November.

A situation like Kentucky's, but on a national scale, would at the very least leave the government "paralyzed in terms of any real policy, domestically or abroad," said George Beebe of the Center for the National Interest, a conservative think tank in Washington.

"We are not going to be able to actually do things," Mr. Beebe said. "It's going to be a challenge, I think, to hold things together. Where this is pointing is a crisis of systemic legitimacy."

Read more http://swordpress.com.ng/2019/11/11/us-guber-election-democrats-take-kentucky-republicans-scream-foul-election-results-as-twitter-user-begins-fake-ballot-stealing-tweet-gop-suspected/
JONATHAN LEIBSON/WIREIMAGE
For David Copperfield, it was love at first sight. When he was 10 years old, his mother took him to Macy's in Herald Square. The store's resident magician made a coin disappear and reappear on a small wooden board. One...
JONATHAN LEIBSON/WIREIMAGE
For David Copperfield, it was love at first sight. When he was 10 years old, his mother took him to Macy's in Herald Square. The store's resident magician made a coin disappear and reappear on a small wooden board. One simple trick was enough to convince Copperfield to buy that board and, more importantly, pursue magic.
Five decades later, Copperfield is the richest magician in the world with an estimated net worth of $875 million, which includes 11 private islands in the Bahamas as well as a vast collection of magic artifacts. (That wooden board from his childhood and even the Macy's counter he bought it from are featured in Copperfield's magic museum.)
This year the living legend added to his fortune by earning $61 million in 12 months, making Copperfield the world's highest-paid magician once again. He made the most of his millions by performing an astounding 670 shows at the MGM Grand during our scoring period, which is June 1, 2017, to June 1, 2018.
Today In: Consumer
"It's not just tricks," Copperfield told Forbes in 2013. "Secrets and lots of hard work go into this."
Penn & Teller come in second with earnings of $30 million. The duo perform five nights a week at the Rio in Las Vegas and have a popular magic competition show, Fool Us, on The CW.
PROMOTED
The Bond That Harms: The Impact Of Trauma Bonding On Human Trafficking Victims
"Talent Is Equally Distributed, But Opportunity Is Not."
Copperfield and Penn & Teller's earnings both dipped this year due to the Las Vegas shooting in October 2017, which left 59 dead and hundreds wounded. In the aftermath, the Las Vegas Strip saw a 6% decline in revenue compared with October of the previous year, according to the Nevada Gaming Control Board. The Las Vegas Convention and Visitors Authority also reported that visitation declined by 4.2%.
Mindfreak star Criss Angel also saw his Las Vegas residency earnings take a hit in the wake of the massacre. But the magician more than made up the difference by touring with 31 performances in our scoring period. Angel earned $16 million, $1.5 million higher than his 2017 haul.
Less than two weeks ago, Angel wrapped up his ten-year residency with Cirque du Soleil at the Luxor in Las Vegas. The Mindfreak show, revamped with new illusions, will move to Planet Hollywood in December.
Combined, the world's seven highest-paid magic acts earned $149 million in 12 months, before taxes and management fees. Last year's fifth-highest-paid magician, Dynamo, is not among our ranks this year. The English magician performed very few times in our scoring period due to his struggles with Crohn's disease. But this month Dynamo will debut a new show in London at The Abandoned Room, his high-end "underground speakeasy magician's speakeasy." With only 96 seats and 20 performances in November, the venue is sure to sell out.
Despite Dynamo's falling off the list, the collective earnings of the world's highest-paid magicians increased by $2 million. This can be attributed to David Blaine, whose earnings more than doubled from last year's $6 million, surging to $13.5 million. The endurance artist, who places fourth this year, performed more than 50 shows in our scoring period as he wrapped up his first North American tour. The sold-out tour reaped an estimated $12 million—the highest tour gross of any solo magic act this year—when including tickets and merchandise as well as meet-and-greets, which are incredibly lucrative for all performers. VIP packages that include brief meet-and-greets can cost well over five times the price of a regular ticket.
Blaine's 50 tour dates might seem small when compared with the performance numbers of Copperfield, Penn & Teller and mentalist Derren Brown (No. 7, $8 million), who embarked on a 100-date tour this year. But it's a remarkable feat given that Blaine had to perform his most grueling stunts night after night, including regurgitating a live frog, sewing his lips together and holding his breath underwater. The Bronx-born magician can't even eat on the days he performs the frog trick; it's hard being a human aquarium. Despite the physical toll, Blaine will bring the tour to the U.K. in late spring 2019.
"What you're seeing is night after night, an event with a bunch of endurance feats where anything could stop the show," Blaine told KIRO Radio. "It's fun for me night after night. But it is very difficult physically."
Only one of this year's magic acts released a new magic special; Derren Brown's Sacrifice premiered on Netflix last month. Though magician and truTV prankster Michael Carbonaro (No. 6, $8.5 million) and Penn & Teller have TV series, the real moneymaker is live performances, whether it's in a 4,000-seat arena or a private event for a corporate client. The true value of a TV special is reaching viewers so they'll pay to see their favorite act live.
Beyond magic, making the magicians list takes blood, sweat and tears.
METHODOLOGY
All earnings estimates are from June 1, 2017, through June 1, 2018. Figures are pretax; fees for agents, managers and lawyers are not deducted. Earnings estimates are based on data from Pollstar Pro, as well as interviews with industry insiders.
The Highest-Paid Magicians of 2018
JOHN PHILLIPS/GETTY IMAGES
7. Derren Brown
Earnings: $8 million
The British mentalist performed more than 100 times in our scoring period, including engagements on the West End and Off-Broadway. You can catch Brown on the small screen with his provocative Netflix special, Sacrifice, which premiered in October.
GETTY IMAGES FOR TURNER
6. Michael Carbonaro
Earnings: $8.5 million
The prankster stars in and executive produces the truTV hidden-camera show, The Carbonaro Effect. But he makes most of his millions from selling out theaters in North America and performing private gigs.
GETTY IMAGES
5. The Illusionists
Earnings: $12 million
The touring magic production, featuring rotating casts of magicians, performed more than 350 shows across the globe. The ensemble's own Shin Lim recently won America's Got Talent for his sleight-of-hand tricks.
GETTY
4. David Blaine
Earnings: $13.5 million
The endurance artist more than doubled his earnings thanks to his sold-out North American tour, which featured his most grueling stunts, such as regurgitating live frogs and holding his breath underwater. Blaine also collects mid-six-figure paychecks for private performances for clients such as Peter Thiel, who hired Blaine to perform at his Vienna wedding last year, and blue-chip companies including Salesforce and Intel.
FILMMAGIC
3. Criss Angel
Earnings: $16 million
The Mindfreak star makes most of his millions from his Las Vegas residency with Cirque du Soleil, but Angel increased his earnings from last year by touring. Angel wrapped up his 10-year contract with Cirque at the end of October, but Mindfreak will be revived at Planet Hollywood in December.
ANDREW LIPOVSKY/NBC/NBCU PHOTO BANK VIA GETTY IMAGES
2. Penn & Teller
Earnings: $30 million
The odd couple works their magic in Las Vegas five nights a week, but they squeezed in a trip across the pond for a U.K. tour. Penn and Teller's popular Fool Us magic competition show was renewed for a sixth season last month by The CW.
COURTSEY OF DAVID COPPERFIELD
1. David Copperfield
Earnings: $61 million
The world's richest magician played 670 shows at the MGM Grand during our scoring period. Copperfield also conjures cash from Musha Cays, his enclave of 11 private Bahamian islands, where guests pay six figures to stay and see the illusionist live.
Read more http://swordpress.com.ng/2019/11/11/the-worlds-highest-paid-magicians-of-2018-richest-com-ng/
Read more http://swordpress.com.ng/2019/11/11/you-can-now-get-your-nafdac-permit-online-post-powered-by-eats-com-ng/

...
Read more http://swordpress.com.ng/2019/11/11/you-can-now-get-your-nafdac-permit-online-post-powered-by-eats-com-ng/